All owners or occupants of property within the limits of the City of Covington, shall remove or cause ...
The City of Covington would like to make citizens aware that on February 1, 2021, City Offices will ...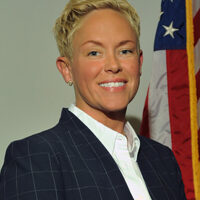 City Manager - Krystal M. Onaitis
333 W. Locust Street
Covington, VA 24426
Phone: 540-965-6300
Cell: 540-958-3837
e-mail: konaitis@covington.va.us
Ms. Onaitis has led the government side of the public-private partnership in Richmond, VA, with AvePoint, resulting in RVA311, the state-of-the-art online portal enabling citizens to engage government, lodge complaints and track their interactions online.
She served a a senior advisor to former Richmond Mayor Dwight Jones and managed special projects, policy, communications and performance initiatives in City public works and public utilities departments. Ms. Onaitis holds a B.A. in political science and a master's degree in public administration from Virginia Commonwealth University.
The City Manager's Administrative Assistant, Becky Nuckols, has been a resident of the Covington area most of her life. She previously worked for the Covington City School system in the Hearing Impaired and Special Education Departments from 1994 to 1997 and various retail positions. She received an Auto CAD Career Studies Certificate and the Administrative Support Technology Degree from DSLCC.
Phone (540) 965-6300
E-mail: Rnuckols@covington.va.us